Middlecolumn
Home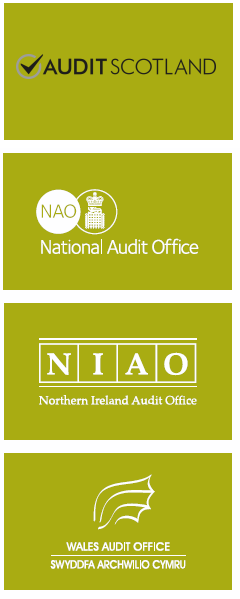 About the Public Audit Forum.
The Public Audit Forum (PAF) was established in 1998 to provide a focus for developmental thinking about public audit. The Forum's members are Audit Scotland, the National Audit Office. (NAO), the Northern Ireland Audit Office (NIAO) and the Wales Audit Office. The main role of the Forum is consultative and advisory, it is not able to direct the national audit agencies and other bodies involved in public audit.
Its remit is to:
Provide a strategic focus on issues cutting across the work of the national audit agencies by developing strands of work aligned to the common objectives of promoting high standards of governance, transparency and financial management across the public sector,
Support the accountability of public service delivery by exchanging experiences and methods for investigating the conduct and value for money achieved by those using public money to deliver public services be they be in the private, public or third sectors,
Continue to be a credible source of independent and objective insight and guidance to support beneficial change in the public sector by sharing insights into how public bodies can improve services in climate of austerity and rising demands for and expectations of public services,
Enhance the efficiency and effectiveness of public audit and high standards of audit across the public sector by active co-operation between the national audit agencies, sharing knowledge and good practice on the application of audit standards and codes of practice of the auditors of bodies delivering public services.
Save
Save
Save